Flexible Freight Factoring Programs
When we say flexible – we mean it!
Enjoy the freedom to factor when you want, how you want, whom you want and for however long you want. Month-to-month contract terms and no minimum volume requirements. It's time to choose a freight factoring program that works on your terms.
Stuck with unpaid freight bills? Tired of waiting for slow-paying customers? Keep your trucking company running with freight invoice factoring programs tailored to meet your exact needs. If you want low fees and total flexibility, check out what our freight factoring programs have to offer.
Recourse and Non-Recourse Freight Factoring Programs
Find the lowest factoring fees with recourse freight factoring. If you're hauling for reliable customers, recourse factoring can get you the lowest fees and highest advances.
Recourse is slightly riskier for truckers because you'll be liable if your customers fail to pay. However, with free credit checks, you'll be able to take advantage of recourse factoring options with the confidence that you're working with credit-worthy clients.
A non-recourse factoring program typically has slightly higher factoring fees but protects truckers if clients fail to pay their bills. If the freight invoice goes unpaid, the factoring company will take the loss.
If you're not sure which program is best for you, contact us! We'll walk you through each program to help you decide which one is best suited for the needs of your trucking company.
Check out this helpful resource to learn the difference between recourse and non-recourse factoring for truckers.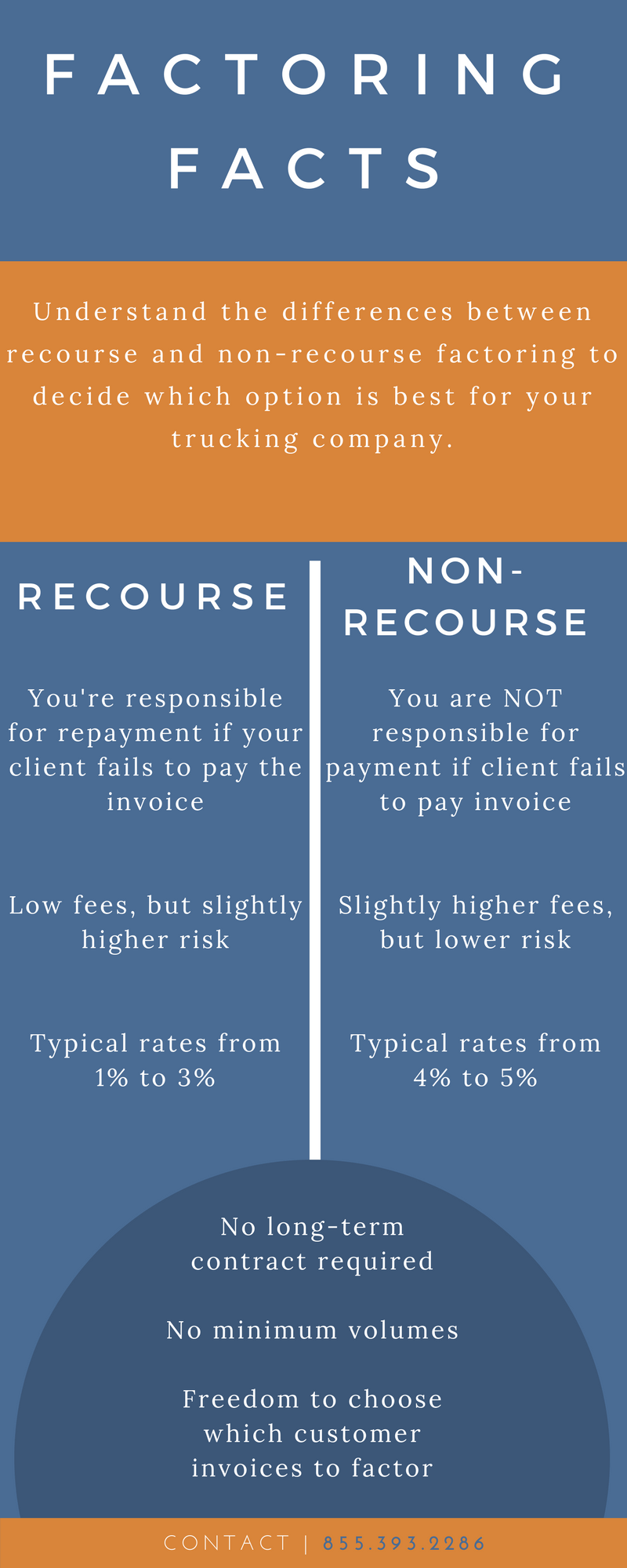 Freight Invoice Factoring Programs Offer More than Quick Funding
Recourse or non – no matter which freight factoring program you choose, you'll benefit from the following:
Fuel advances for trucking companies – receive up to a 50% advance on freight bills upon load pickup to pay for fuel and driver expenses.
Fuel cards for truckers– EFS and Comdata fuel cards provide discounts at all major truck stops and refueling stations across the US and Canada.
Free credit checks – view customer financial history and protect your trucking business with complimentary credit checking services provided by freight factoring companies.
Funding on copies – no originals needed. Just fax over copies of freight bills to begin factoring.
No long term contracts – stay flexible with month to month contract terms.
Dedicated customer service – experienced account representatives are committed to working with owner-operators and getting businesses the money they need.
24/7 online account access – manage funds, make transfers and monitor driver spending with round the clock access to online accounts.
No monthly minimums!
Let us set you up with the best freight invoice factoring program for your funding needs today – get started now by giving us a call or filling out a form for a free quote.