Non-Recourse Freight Factoring
Fast funding without the risk.
Growth can be difficult for small and medium-sized trucking companies when customers delay or avoid payments.
Choose non-recourse freight factoring and your trucking company will never be subject to unreliable customers again.
What is Non-Recourse Freight Factoring?
Trucking factoring companies assume the risk of nonpayment with non-recourse factoring. Get the cash you need even if your customers never pay their freight bills.
Non-recourse freight factoring protects trucking companies from unreliable customers. If your customers don't pay, freight factors will.
Non-recourse factoring is quick and easy, providing your trucking company with immediate access to cash even when your customers are slow to pay. Simply fill out the application and start factoring freight today.
---
Recourse vs. Non-Recourse Freight Factoring –
Which is Best for Your Trucking Company?
There are two types of freight factoring programs: recourse and non-recourse. Choosing between recourse and non-recourse freight factoring depends on what works best for your trucking business. Here's a quick rundown on each:
Recourse factoring: 
typically features lower fees than non-recourse. With recourse factoring, trucking companies are responsible for nonpayment. If customers don't pay off their freight bills within the set period (typically 90 days), then the trucking company may be held responsible for repayment. Recourse freight factoring rates can be flat or variable and start as low as 1%.
Non-recourse factoring:
  often comes with a flat rate that's usually higher than recourse rates. Despite the higher fee, non-recourse freight factoring puts the risk of nonpayment on the factoring companies instead of your trucking business. Should your customers fail to pay, the factoring company will take the loss. Non-recourse freight factoring rates are typically between 4% – 5% for small-sized trucking companies.
---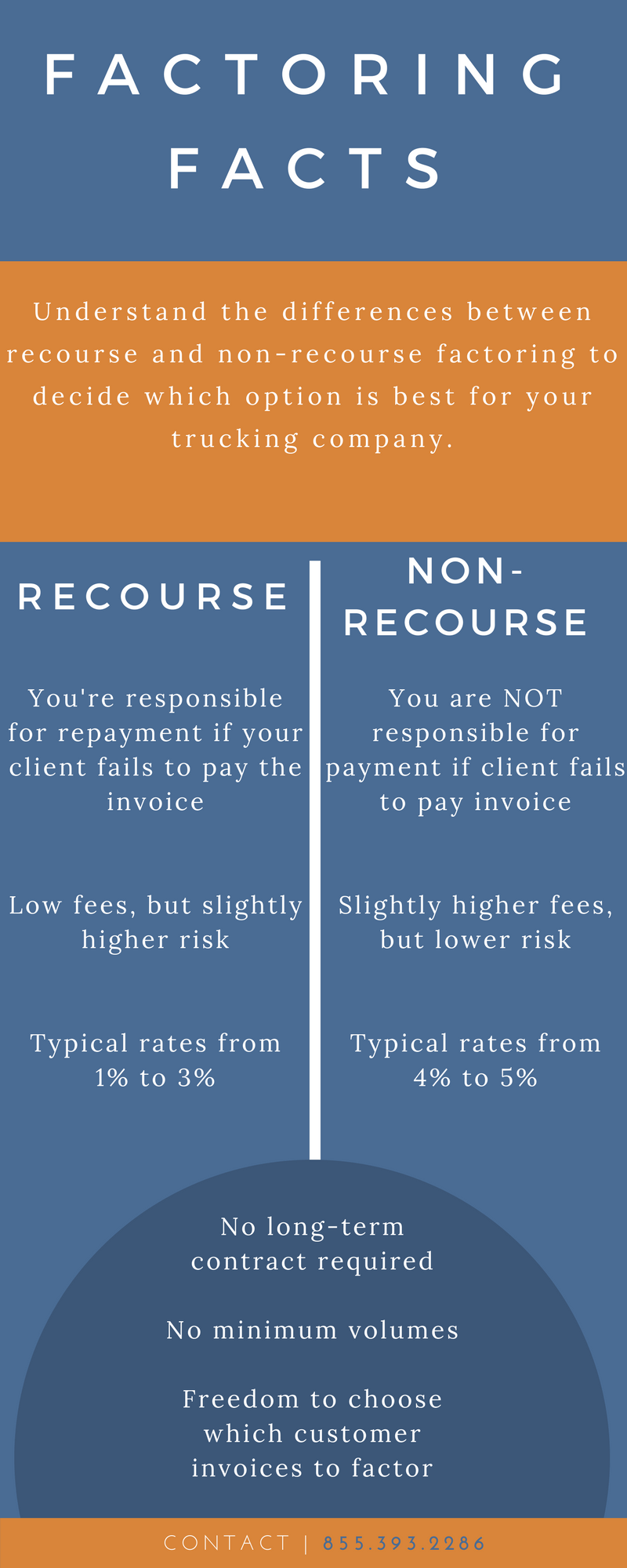 Benefits of Factoring Freight Bills
Whether you choose recourse or non-recourse, all trucking companies are eligible to enroll in free fuel card programs. Fuel cards can be used at nearly all major refueling stations nationwide, providing significant discounts on fuel.
Fuel advances are another benefit of freight factoring. Instead of waiting for payment until you deliver the load, get up to 50% of the freight bill advanced at pickup.
Freight factoring companies also provide free access to online load boards so that you can maximize profits by choosing the best loads to haul.
Start freight factoring today and save time and money with back office support. Instead of spending time trying to collect payments and qualify new customers, freight factoring companies offer credit and background checks so you can focus on running your business.
Freight Factoring with Total Flexibility
With industry-low rates available nationwide, non-recourse freight factoring puts more cash in your hands without adding debt.
There are no minimums and no hidden costs involved in non-recourse freight factoring. Factors will advance 100% of the cash, while you only pay a small flat fee. Whatever the size of the load, the flat fee prevents you from ever having to pay more than you intended.
You'll always know the cost upfront and the factoring company handles collecting the rest of the money from your customers.
Want to learn more? Ready to get started?