Dump truck driving can be extremely rewarding, but it's not a job for everyone. If you're looking into starting a career as a driver or owner operator, make sure you carefully consider the pros and cons of dump truck driving before making a decision. You can check out this guide here to find out more information about ELD Devices, by looking at the top electronic logging devices which may make your journey safer. There are several things that make dump truck driving a perfect match for some and a less-than-ideal career for others. If you're considering entering this career, keep reading. We've compiled a list of some of the advantages and disadvantages of being a dump truck driver. It's a great place to start your research!
Advantages of Becoming a Dump Truck Driver
1. Pay Rate
Did we get your attention? Dump truck companies pay drivers on average $21.74 per hour. Certain companies will pay their drivers double the average, hitting about $30 per hour. A dump truck driver's salary depends on what company they are driving under, if any, their experience and what they are hauling. Drivers are also eligible for company bonuses and incentives due to the high demand of their service. In 2016, the median pay was $41,340. The median salary in the United States was $37,040, suggesting dump truck drivers make an above-average salary.
It's more difficult to pinpoint the exact salary for being a dump truck owner-operator. Payscale estimates that a dump truck owner-operator can earn anywhere between $40,000 – $197,000. The longer one is a dump truck driver, the more likely one is to make a higher salary. Behind career length, geography is the biggest factor affecting pay. If one owns several trucks, has them working relatively constant jobs and deducts the necessary expenses it takes to run them, the salary range can be easily much higher. However, they are responsible for the care of their trucks. Even if several trucks need maintenance or gas, dump truck factoring can help out by advancing invoices without putting owner/operators into debt.
2. Low Mileage
Unlike other types of truck drivers, a dump truck driver's routes are mostly local. A lot of jobs that dump truck drivers accept are hauling loads from one place to another within a 20-30 mile radius. Instead of traveling interstate to deliver goods, they're more likely to travel within a specific county's boundaries. Not having loads that require multi-day travel allow dump truck drivers to sleep in their own beds and be at home with their families instead of out on the road. That may mean a driver is going to take multiple loads per day every day they work instead of taking one load across the country and back.
3. Opportunity
Opportunity knocks often for dump truck drivers. If you're a new driver, don't worry. Companies across the country are searching for potential drivers to train by hauling smaller, heavier loads back and forth to places like construction sites. When you accept the job, you'll most likely be trained in a classroom and on the job. If you're willing to learn the job, there are many different companies that will still consider your application.
If you have a few years of experience, there's even higher demand for drivers like you. Businesses are looking for people with experience that they can trust to haul what they need. Most dump truck jobs require the operator to also inspect certain equipment, clean and maintain the dump truck, or haul waste. If you have experience doing any or all of those things, you're already ahead of the game.
Disadvantages of Becoming a Dump Truck Driver
1. Repetition
If you get bored when you're required to be repetitive, this job might not be for you. If a driver accepts a certain job that lasts 3 months, they're most likely going to be driving the exact same route several times a day for those 90 days. Driving locally is a huge perk, but if you're more concerned with the familiar sites than you are with sleeping close to home, this job is perfect for you. Drivers can avoid complete repetition by switching up their simple routes if at all possible. If not, dump truck drivers get to speak to those they're hauling for several times a day. Make some friends in your field! If possible, it also helps to take a few breaks and walk around outside of your truck.
2. Seasonal
Work can be seasonal depending on what state you live in. A dump truck driver in Florida is going to experience different weather-related problems than a driver in Alaska will. If your area has bad winters, you may be out of a job depending on your level of experience. Dump trucks are expensive pieces of equipment, so driving them in less-than-perfect conditions proves more of a risk than anything.
But, if you are a seasoned driver, or want to be eventually, you may be in luck. A dump truck chassis is the base of certain winter service vehicles, so knowing how to operate one in the winter means you have to use an entirely new skill set. a dump truck chassis is the base of many winter service vehicles, so the ability to operate the truck through all the variables of the job is a valued ability indeed. Since there is a lot of load shifting and the truck is generally pretty heavy, it takes skill to do the precise maneuvers necessary in snow removal.
3. Loneliness
While being lonely is a much bigger problem for long-haul truckers, dump truck driving can still be a relatively isolated job. Working long hours and constantly being inside your truck can be difficult to say the least. To make it a bit easier on yourself, listen to an audiobook or podcast. If music is more your thing, tune into the radio or download your favorite streaming music app to keep you entertained for hours. You can always call a family member or friend if you want to as well. A familiar voice can cure the blues in minutes flat. Regardless of what you do to fight the lonely bug, make sure you're not driving distracted.
Truck driving is a tough job and a huge commitment.
But — like any other job — it has its advantages and disadvantages.
If you decide the pros outweigh the cons, then welcome to the world of dump trucking!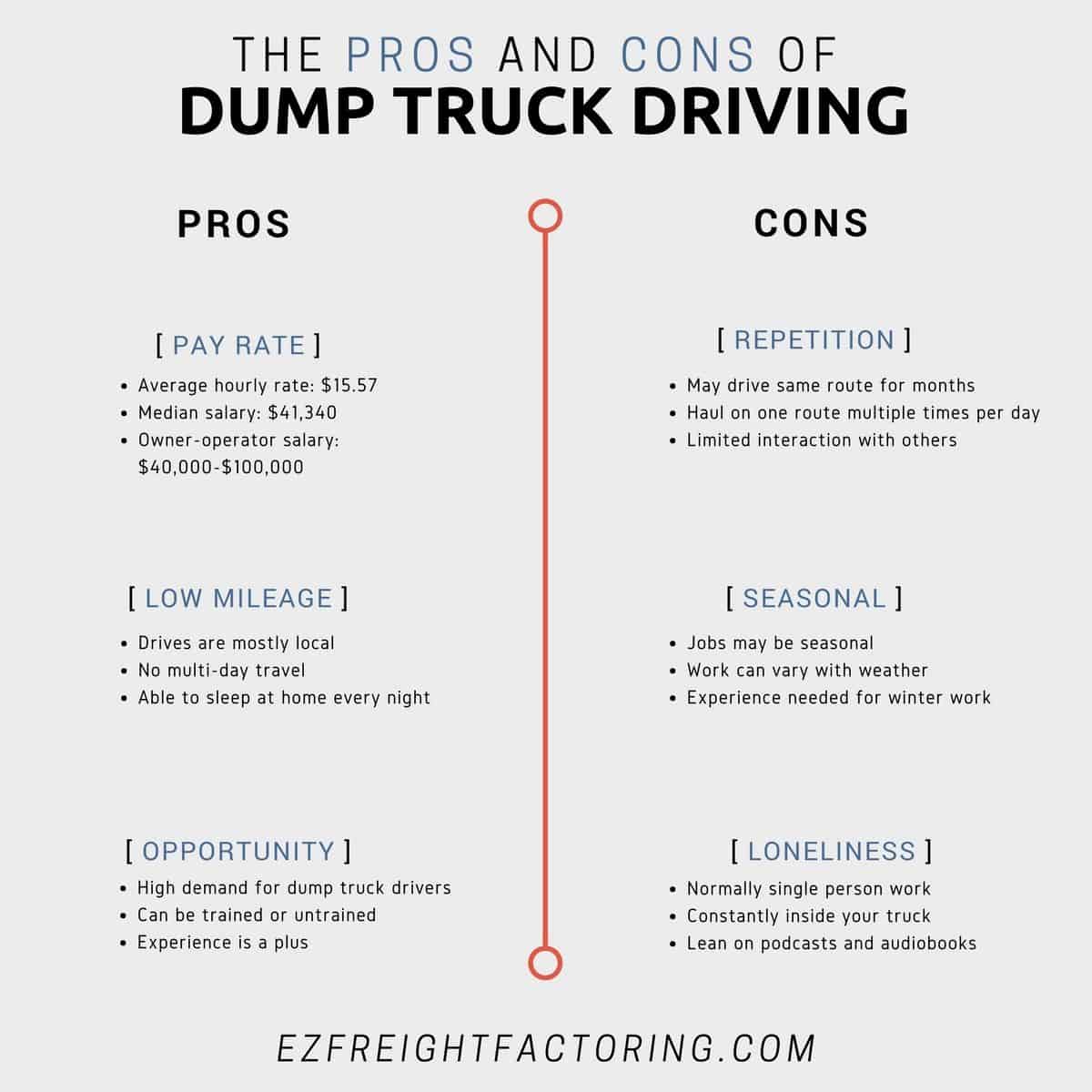 Share this image on your site!
[raw]
Learn more about dump trucks.