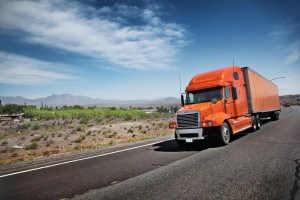 Where Did All the Truckers Go? (Why the Trucking Industry Needs a Makeover!)
Somewhere in our family photo albums there are pictures of me and my brother when we were little sitting in the cab of our great uncle's truck. Our tiny bodies are laughable amongst the huge rig, but our grinning faces clearly display our excitement. Before we were born, Howard, my uncle, had moved to Florida and had begun trucking to transport oranges from Florida to Ohio. It was always a treat when he was able to stop by and we could play in his big truck. When I think now of my uncle, he was clean cut; with a tanned, lined face and always wore a short sleeve, button-down shirt. He was proud to have been a trucker—he wore his profession like a badge of honor. It wasn't an easy life, and it required that he spend many days or weeks away from his family but still—he owned his own cab and reported for duty well into his old age.
However, when I think about truckers and the profession now, the image of my put-together uncle does not come to mind. (Stereotype alert!) I think of large, rough-around-the-edges, smoking, tattooed guys. Thanks Hollywood! Not to mention, I don't know anyone who's a trucker. I don't even know anyone's uncle's cousin's dad who's a trucker.
So what happened? Where did all the truckers go?
Multiple industry changes over the years have contributed to a steady decline and now critical shortage of truckers. The government has strengthened regulations, allowing drivers to spend less time behind the wheel. While the premise is admirable—to keep truckers and other drivers safe—it means that compensation for truckers has gone down. For the most part, drivers are only paid for the time and/or miles they are allowed to drive thus, more rest time = less money. Additionally, truckers face some serious and dangerous problems when trying to find places to park their trucks in order to rest. Furthermore, more and more companies are requiring truckers to use GPS systems to track their mileage and sometimes even their quality of driving—another turn off.
As a whole, the trucking industry needs to find a way to once again appeal to younger generations. Unfortunately, gone are the glory days of wanting to 'set sail' across the wide open United States. Often, kids these days are raised to assume that college is the only option after high school. Even if college is not a realistic pursuit, most young adults are inclined to enter other, more glamorous trade professions. This is especially true given the age restrictions on truck driving: 18 to remain in-state, 21 to cross state lines, but as old as 23 for most insurance companies. Driving trucks is also not for the faint of heart—to name a few reasons why: you need to be fiercely independent, okay with being away from your family and friends for long stretches, as well as able to deal with sometimes hazardous road conditions and capable of withstanding poor eating and sleeping options. In a time where Gen X and Y'ers are spending more time at home, wanting to make more money, this is the exact opposite of what the trucking industry is looking for and needs. The stereotypes of truck-driving life have gotten out of control and if the industry wants to recover, they'll have to become much more pro-active at promoting the positives of trucking life and re-branding themselves.
Okay, but how? Good question and one that I can't adequately answer. However—one company is on the right track. Idaho Potato is currently looking for an "outgoing, friendly adventure-seeking" candidate to haul a 6-ton potato (yes, you read that correctly) on their 2015 Giant Tater Tour to raise awareness for the American Heart Association and Go Red (Women's Heart Health awareness). The qualified driver will be a part of Idaho Potato's PR team—including them in promotional events and requiring them to be social-media savvy. Additional perks include a set salary for the tour, days off, flexible hours and covering additional living costs. Idaho Potato is doing a lot of things right here—first and foremost, they're making trucking FUN again. Who wouldn't want to haul a ginormous potato cross-country in a shiny, red truck?! Secondly, they're in-tune with how to connect with potential younger-drivers by including them as part of a team with a larger purpose than just haul-and-deliver. They're also making sure that the right person knows social media—an absolute must in today's world. Finally—they're offering at least a little bit of financial security by paying a set salary and covering living costs—another huge perk to a younger generation. These are all steps in the right direction and more companies should take note.
Ultimately, if the trucking industry wants to turn things around, drastic changes will have to take place—and soon. Modern times call for modern adaptations: current drivers need to speak up and advocate for their own profession and help re-shape the public perception of truck drivers. Leaders need to find a way to bridge the gap between what used to be and find a way to connect to younger generations and attract new drivers. Just because the golden years of trucking that my Uncle represented are over, doesn't mean we can't work together to re-define the industry, elevating the profession once again.